Town Creek Farm News
Town Creek Farm Sees Powerful Demand for their Brangus and Ultrablack Genetics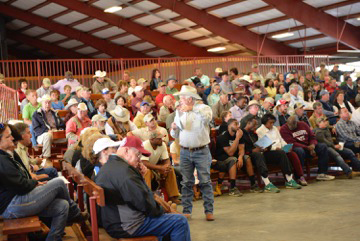 Cattlemen from the southern tier of the U.S. convincingly endorsed the Town Creek Farm Sale offering on October 17, 2015, in West Point, MS. Town Creek Farm owner, Milton Sundbeck, and his team, warmly welcomed a capacity crowd of customers, friends and family to the Town Creek Farm Bull Sale and Commercial Bred Heifer Sale. The Town Creek Farm program has established itself as a power producer of genetics that excel in real-world commercial ranching operations. More than 200 buyers, bidders and spectators from 10 states and the countries of Brazil and Paraguay, South America, traveled to appraise the Town Creek Farm offering. When the final gavel tap sounded, 150 Town Creek Farm bulls averaged $6672 and 263 customer-owned commercial bred heifers averaged $2801. The sale grossed $1,737,350.
The top selling lot in the bull sale earned a price tag of $29,000. Lot 118, TCF Ultrablack 271B, a powerfully made, deep sided, user-friendly bull had a tremendous amount of admirers who appreciated his performance numbers and his overall power and mass. The bull was sired by CCR Pathfinder 6413X2, posted a 75 pound birth weight and an 843 pound weaning weight. Drawdy Brothers of Florida made the final, determined bid.
Wells Cattle Co., of Mississippi, took home the second high selling bull, TCF Integrity 53B with a selling price of $14,5000. With a near-ideal phenotype, this bull was powerfully muscled from front to rear, moderately framed, and sound footed. The CCR Integrity 355S4 son is out of powerhouse cow, was user friendly and had a scrotal of 41 cm.
The Town Creek Farm Commercial Bred Heifer Sale was a continuation of the 18-year running Cow Creek Ranch Commercial Bred Heifer Sale held each fall in Aliceville, Alabama. Heifers were by Cow Creek Ranch genetics bred back to Cow Creek Ranch and Town Creek Farm bulls. The multi-generational, genetically tracked heifers commanded strong interest and demand from buyers. When the gavel fell for the final time, 263 heifers sold for an average price of $2801. These customer-owned heifers were offered by Williamson Cattle Co., ranching in Faunsdale, AL, and Okeechobee, FL, and an 18-year consignor to the Cow Creek Ranch Sale; River Oaks Farm, Searcy, AR, 17-year consignor; 16-year consignor, CP Bar Ranch; 9-year consignor, Megehee Cattle Company, Macon, MS; along with seven-year consignor, Montgomery Farms, Moulton, AL. Other consigners included B&B Farm, Linden, AL, three-year consignor; Reznicek Ranch, Aliceville, AL; and Longino Ranch, Sidell, Florida.
Volume buyers were from Florida, Arkansas and Louisiana.
Doak Lambert, Coppell, TX, was the auctioneer.