Town Creek Farm News
Town Creek Farm Sees Powerful Demand for Genetics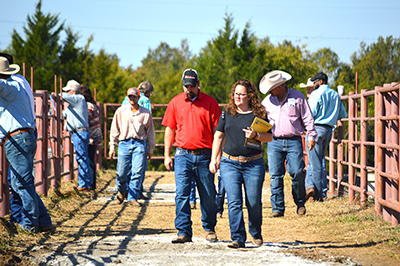 Top commercial cattlemen from across the southern tier convincingly endorsed the Town Creek Farm Sale offering on October 15, 2022, in West Point, MS. The Town Creek Farm team welcomed more than 200 buyers and bidders, both in person and online, from 12 states, Brazil, and Paraguay as appraisers of the Town Creek Farm offering. The auction was fast-paced with aggressive bidding signaling optimism of a return to a bullish market. When the gavel fell for the final time, 130 Town Creek Farm bulls averaged $6525 and 210 customer-owned commercial Brangus bred heifers averaged $1974. The sale grossed $1,256,300.
Throughout the weekend cattlemen described the bull offering as powerful, extremely uniform, and consistent from pen to pen. "You could buy any bull here today and you would advance your program," said one cattleman. This acknowledgement comes in large part because of Town Creek Farm's dedication to breeding innovation and itsapproach to practical and profitable genetics.Town Creek Farm has established itself as a breeder of functional, fertile, heat and humidity-tolerant genetics that perform and last in real-world commercial ranching operations.
South American enterpriseGreen Pastures Group SA of Paraguaynabbed the top-selling Brangus lot in the bull sale. Han Kotterman and his partner Federico Maisonnave spotted Lot 25, 057H3, on a previous trip to Town Creek Farm and couldn't live without him. Heearned a price tag of $12,000. The sale topper is a son of a throwback herd sire, CCR Sleep Easy 46T3, with moderate frame size, yet was powerfully made, long-sided, user-friendly bull and carried tremendous muscle definition.
Lot 80, 036J8, had an incredible number of admirers who appreciated his depth of body and volume, coupled with calving ease. He was the second high-selling Brangus bull lot of the day at $11,500. 036J8 was sired by CCR Rapid Reward 145E6, posted a 70-pound birth weight, was user friendly and boasted a negative birth EPD. Longtime customer Lowell Dollar Farms of Georgia made the determined and final bid.
Longtime customers, Charlie Creek Cattle Co. of Florida, took home the third top Brangus bull in the sale, Lot 32, 70H8 at $11,000. The herd sire was a featured calving ease bull posting a -3.0 birth EPD and CED EPD of 9.9. With a near-ideal phenotype, this bull was moderately-framed, sound-footed and had a 43 cm. scrotal measurement. He will be an asset as a maternal bull to new owners Mike and Carol Sanders.
In the Town Creek Farm Commercial Brangus Bred Heifer Sale, multi-generational, genetically tracked females commanded strong interest and demand from buyers. The customer-owned heifers were offered by River Oaks Farm, Searcy, AR, 22-year consignor; CP Bar Ranch, Holcomb, MS, 23-year consignor; Megehee Cattle Company, Macon, MS, 19-year consignor; along with Montgomery Farms, Moulton, AL, 14-year consignor. Other consigners included B&B Farm, Linden, AL, 10-year consignor; Longino Ranch, Sidell, FL, eight-year consignor; and Lowell Dollar Farms, Bainbridge, GA, a seven-year consignor. Triple S Ranch, Okeechobee, FL, consigned heifers for their second year. Newcomers participating were Spur W Cattle Company, Preston, MS, and R&R Cattle Company, Apopka, FL.
The top-selling pen of bred heifers came from John McKnight's River Oaks Farm at $2900 each. Tennessee buyers, Allan Varner, and Jeff Jones, took home the fancy, fall calving heifers.
The day's volume buyers were from Florida, Louisiana, and Alabama. Doak Lambert, Coppell, TX, was the auctioneer.
Sale Averages
97 Brangus Bulls: Gross $671,750, Average $6925
19 VigorMax™ Half-Blood Bulls: Gross $114,000, Average $6000
13 Percentage and Brahman Bulls: Gross $49,500, Average $4308
129 Town Creek Farm Bulls: Gross $841,750, Average $6525
210 Customer Owned Commercial Bred Heifers: Gross $491,550, Average $1,975