Town Creek Farm News
Powerful Demand for Town Creek Farm Bulls and Commercial Heifers
134 Town Creek Farm Bulls Averaged $5108
20 VigorMax™ Half-Blood Bulls Averaged $6075
244 Customer-Owned Brangus Commercial Bred Heifers Averaged $2000
Ranchers and cattlemen from the southern tier of the U.S. imparted a resounding endorsement of the Town Creek Farm sale offering on October 20, 2018, sale near West Point, Mississippi. Owner Milton Sundbeck welcomed nearly 200 buyers and bidders from 12 states, Paraguay, South America, and Thailand, Asia, who appraised the Town Creek Farm sale offering. Active, steady bidding and consistent pricing from start to finish set the cadence of the sale. When the gavel fell the last time, 134 Town Creek Farm bulls averaged $5108 and 244 customer-owned commercial bred heifers averaged $2000. The sale grossed $1,172,325.
Throughout the weekend cattlemen described the bull offering as powerful, extremely uniform and consistent from pen to pen. "You could buy any bull here today and you would advance your program," said one Florida cattleman. This acknowledgement comes in large part because of Town Creek Farm's dedication to breeding innovation and its approach to practical and profitable genetics. Town Creek Farm has established itself as a breeder of functional, fertile, heat and humidity tolerant genetics that perform and last in real-world commercial ranching operations.
The top selling Brangus bull earned a price tag of $12,000. Lot 51, TCF Rapid Reward 732D2, a powerfully made, big volume bull had a tremendous amount of admirers who appreciated his performance numbers and overall substance. The bull was sired by TCF Rapid Reward 145Z3 and posted a 1550 pound sale day weight. Williams Ranch Co. of Floresville, TX, had the final bid on this full two-year old bull.
Repeat customer, Dollar Farms of Bainbridge, GA, took home the top selling Ultrablack bull, TCF Ultrablack 9203D, at $10,000. This bull is thick, clean-underlined, deep-sided and powerfully muscled from front to rear. He is a two-year-old "user friendly" bull with a 44-cm. scrotal. Dollar Farms consistently identifies and purchases top Town Creek Farm bulls for their commercial cattle operation.
Bidding turned red hot when 20 TruVigor™ Half-Bloods (Brahman x Angus) bull lots sold. Every TruVigor™ bull is a product of embryo transfer, which gave buyers an opportunity to buy full sibs representing renowned Kempfer Brahman genetics on the bottom side and proven Angus sires on the top of their pedigrees. Texas cattlemen from Williams Ranch Co. took home the top TruVigor™ bull, Lot 69, TCF Ten X 453E6, for $11,500. This bull exceled in every economically relevant trait from performance, to carcass, to phenotype.
The volume bull buyers were repeat customers Triple S Ranch of Florida and Smoak Groves of Florida.
The commercial bred heifer portion of the sale showed tremendous demand and strength from beginning to end. Second generation Town Creek Farm sourced heifers who were bred back to Town Creek Farm bulls were among the highest quality heifers ever offered at the ranch from top to bottom. Customer-owned heifers were offered by Williamson Cattle Co. of Florida and Alabama, a 21-year consignor sale consignor; River Oaks Farm, Arkansas, 20-year consignor; 19-year consignor, CP Bar Brangus, Mississippi; 14-year consignor, Megehee Cattle Company, also of Mississippi; along with 10-year consignor, Montgomery Farms, Alabama; six-year consignor, B&B Farm, Alabama; four-year consignor Longino Ranch of Florida; three-year participant; Lowell Dollar Farms of Georgia; and Drawdy of Brothers of Florida.
Volume heifer buyers were from Arkansas.
Colonel Doak Lambert, Decatur, TX, auctioneered the sale. For more information on Town Creek Farm, contact 32476 Hwy. 50 E, West Point, MS 39773, phone 662/494-5944, email Joy@TownCreekFarm.com or on the web at www.towncreekfarm.com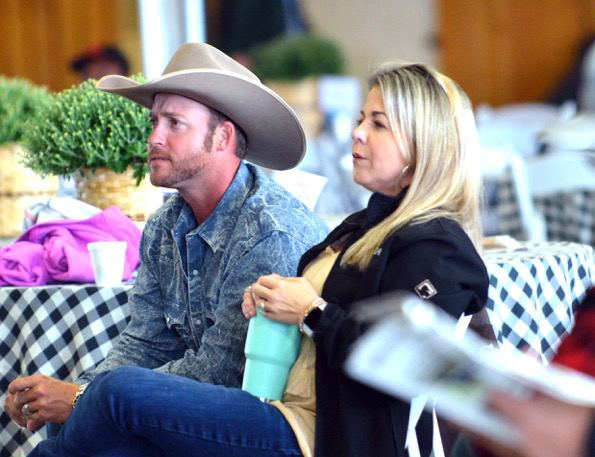 Mike and Kara Sanders of Florida were among
the volume buyers of the TruVigor™ Half-Bloods
bulls at the Town Creek Farm Sale.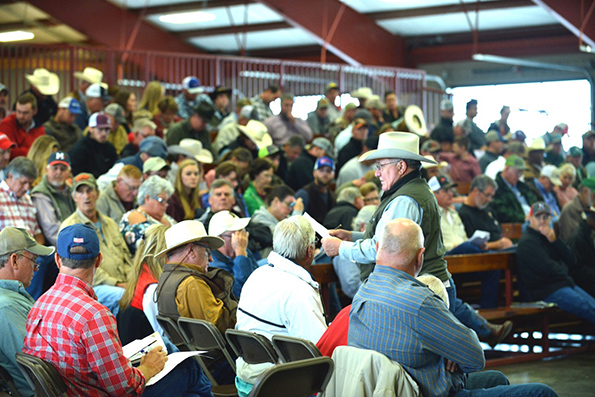 A large crowd from 12 states, Paraguay,
South America, and Thailand, Asia, participated in the
Town Creek Farm Sale.