Town Creek Farm News
Town Creek Farm Celebrates 25 Years of Ranching
Town Creek Farm, West Point, MS is celebrating 25 years of operation. Over the past two and a half decades, Town Creek Farm has grown from a small stocker operation into one of the beef industry's most respected Brangus seedstock genetic providers in the United States.
A quarter of a century ago in 1993, founder and owner Milton Sundbeck purchased his first 800 acres of fertile Black Belt land east of West Point. "A lot has changed in 25 years. Our most visible change is our long-term genetic commitment to the Brangus breed," says Sundbeck.
Cattle ranching runs deep in Milton Sundbeck's family. In 1914, Sundbeck's grandfather emigrated from Sweden and settled east of Austin, Texas, where he started a dairy farm. Growing up Sundbeck worked on the family dairy farm as well as on the cattle ranches of his grandfather Lynn White on the Brazos River near Clifton, Texas, and on his uncle's ranches in central Texas. Sundbeck developed a love and respect for land, cattle, natural environment and for people who earned their livings from farming and ranching. He dreamed that someday he would be able to buy a place large enough to raise his own cattle.
After graduation from University of Texas, Sundbeck entered the chemical business and in 1969 was employed by Hercules, Inc. He later joined American Cyanamid in Mobile, Alabama. In 1980, Sundbeck started his own chemical company, Southern Ionics, Inc. to manufacture and market chemical products for use in paper making and in Portland cement manufacturing.
In 2005, Sundbeck purchased his first registered herd of forage-based Brangus and Ultrablack cows from Cow Creek Ranch in Alabama. The forage-based genetics appealed to Sundbeck because of abundant native and improved grasses on his Mississippi property. His cowherd acquisition came with the opportunity to market his registered bull calves through Cow Creek Ranch bull sales as a joint venture bull producer.
Then in 2010, the iconic Cow Creek Ranch herd was dispersed after owner Joe Reznicek's passing. Sundbeck was at a crossroads and questioned what to do going forward with respect to marketing his registered bulls. The untimely turn of events postured Sundbeck to either grow his Cow Creek genetic based cowherd or become a commercial producer.
Late in 2011, land across the road from Sundbeck's home place became available. Acquiring additional land made it possible to have enough property to take on the bull development project. It made sense for him to build his program with widely proven genetics and continue to produce and market registered Brangus and Ultrablack bulls. Sundbeck and his crew develop bulls on a ranch raised haylage-based ration.
Town Creek Farm hosted its first public offering of bulls at the ranch in 2013. Sundbeck has capitalized on relationships he built while working with Cow Creek Ranch and has carried on the program of working with smaller sized seedstock operations utilizing Town Creek Farm genetics and providing them a market for their bull calves. They have become Town Creek Farm Bull Production Partners. Additionally, commercial producers using Town Creek Farm genetics sell bred heifers in his annual sale.
Town Creek Farm's long list of repeat customers is a testament to the company's high standards and attention to detail. "Our customers return to us for our consistent quality and focus on maternal and economic traits," Sundbeck says.
After 25 years of operating, Sundbeck's owned land-base has grown to more than 3,000 acres along with 600 acres of lease land that is contiguous with his main ranch. Town Creek Farm is taking an aggressive and leading role in developing new and true, 3/8 Brahman and 5/8 Angus, Brangus genetics. In addition, Town Creek Farm is developing additional heterosis product lines to serve the commercial cattle industry. In 2017, Town Creek Farm exported the first registered live Brangus Bull to Thailand.
"We are convinced that the next 25 years hold more potential for Town Creek Farm than the last 25 years. There has never been as much opportunity for the future of the Brangus breed as there is today. We are forging ahead at lightning speed both in terms of genetics and technology," says Sundbeck.
Town Creek Farm will host its 170 Head Bull Sale and 300 head Brangus Commercial Bred Heifer Sale on Saturday, October 20, 2018, at the ranch near West Point. For more information go to www.TownCreekFarm.com.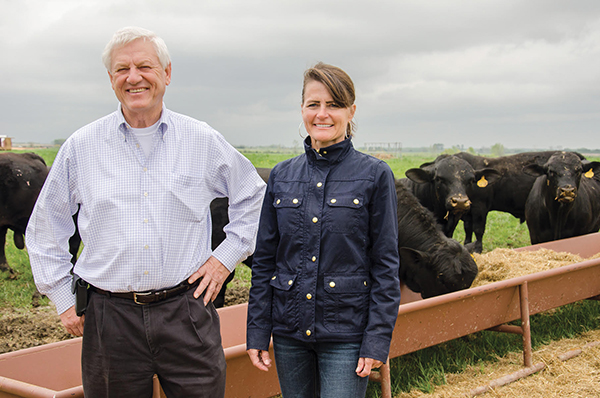 Owner and founder of Town Creek Farm, Milton Sundbeck,
is shown with ranch president, Joy Reznicek,
among his powerfully bred Brangus bulls.